Professional Music Rehearsal Space
"The Music Garage is hands down, the best rehearsal facility in Chicago, or the entire Midwest for that matter!!"
"The Music Garage was great….truly a professional rehearsal studio."
The Music Garage has been my go to rehearsal spot since around 2009. The rehearsal spaces at MG are always clean, technically sound and the staff is the best around. The showcase room at MG is hands down my favorite room to rehearse my team at. We've done band rehearsals, choir rehearsals, full show run throughs and even talent tryouts in the showcase room. Aside from this, the Music Garage building is one of the most important places in the Chicago music scene. It is always full of talented musicians working on their craft, the place has a great vibe!
I want to Thank Jim and his whole crew for the time and effort I would highly recommend the Music Garage to anyone.
Whether you are an artist, engineer, or producer, one thing holds true: you want a quality studio where your career can flourish. At the Music Garage, we work hard every day to ensure an experience second to none. Everything we do – from the biggest initiatives to the smallest details – has one goal: your total satisfaction and a Practice Made Perfect.
It all begins with the studio. Our top shelf construction features dual construction 18" walls, custom sound suppression, dedicated power with 32 outlets, high speed Internet in every room, state of the art security, daily cleaning, a full time maintenance staff, two 24/7 elevators, and equipment carts for easy load-in and out.
Anyone can build a great building, but only the Music Garage has a staff of full-time musicians who understand the needs of other artists. Like you, we are professionals dedicated to providing the service and support that lets you focus 100% of your energy on your creativity.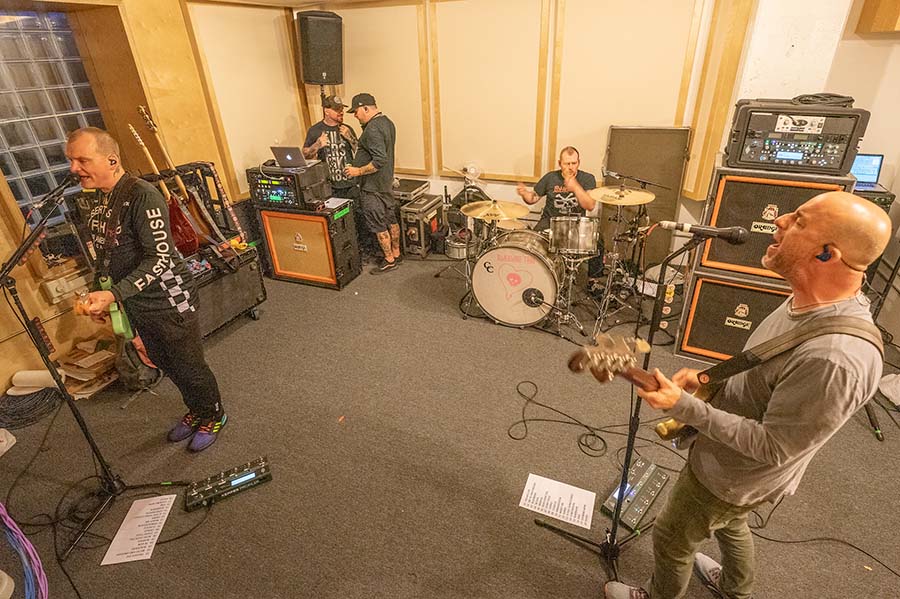 Rise Against • Jennifer Hudson • Chance The Rapper • Common • CeeLo Green  • Animal Collective  • Billy Cobham • Sleater-Kinney • Happy Mondays  • All Time Low • Rita Wilson • Robin Thicke • Carly Rae Jepsen • Iggy Azalea • Jonathan McReynolds • Seal • Eryn Allen Kane • Nancy Wilson • Declan McKenna • The Black Crowes • Machine Gun Kelly • Nine Inch Nails • Plain White T's • The Psychedelic Furs • Meek Mill • The Strokes • John Mayer • Future • Fantasia • Donald Lawrence • Smashing Pumpkins • Alkaline Trio • Harpo Studios • Ric Wilson • Judy Collins • Vic Mensa • Mavis Staples • That Dog • Will You Be My Next• The Beths • Rich Redmond • Recording Tricks with Brian Deck • Afghan Whigs • Brad Zandstra • The Posies • Johann Johannsson • State Champs • Mulatu Astatke • Matt Corby • Chad Wackerman • Miranda Rae Mayo • Chicago Bulls • Stampede Drumline  • Jawbreaker • John Legend • Yeah Yeah Yeahs • Kevin Gates • Guthrie Govan • Bad Brains • Against Me! • Flosstradamus • Stephen Stills • David Crosby • Widespread Panic • Umphrey's McGee • The Wanted • Jennifer Holiday • Michael Henderson • Chuck Rainey • Isley Brothers • Marley Family • Survivor • Mayday Parade • Poi Dog Pondering • Iron & Wine • Twisted Sister • Gerald Albright • The Struts • Vanessa Bell Armstrong • The Hush Sound • The Doobie Brothers • Van Marrison • Anita Wilson • Saba • Joe Keery • Maroon 5 • Mickey Hart • Art Garfunkel • My Chemical Romance • Run The Jewels • Krewella • Peter Frampton • Sting • Jimmy Buffet • Solange • Rhymefest • Avant • Mr. Hudson • Disney • Towkio • Knox Fortune • Bill Dickens • The Audition • New Order • Helmet • Don Was • Jack Garratt • AFI • Jet • Bones • Gryffin • Odesza • Howard Jones • Rhonda Ross • How To Dress Well • Ama Lou • Dana DeLorenzo • Post Animal • Wild Belle • Califone • KRS-One • Jamila Woods
Hourly studios
The Music Garage features the finest rehearsal facilities in the Midwest. Regardless of your playing style, we have the right amp, rig and kit for you.
MONTHLY studios
No matter what you are looking for, the Music Garage has the perfect home for any musician. Our monthly spaces are clean and comfortable and provide the ideal environment to rehearse, record or engineer your music.
showcase rooms
The Music Garage provides a wide range of professional rehearsal services to accommodate every touring act, from international headliners to local bands looking for a professional experience.